Surf
Surfing at Playa Cocles on impressive waves is usually best from December to March, and early in the day before the wind picks up. Nearby, Salsa Brava (Costa Rica's biggest break) has lefts and rights, which both break close to the steep beach. Playa Negra, a secluded beach just north of Cocles is pretty, quiet and has gentle waves for beginners.
Very touristic little towns, lots of tourists, a variety of hotel options, bicycling, little restaurants, local bands playing reggae music at night, and wonderful beaches to watch the  sun-rise…….! To see more pictures, click here.
TIP – Watch out for ants on the beach, their bite really stings
Here on the east coast, you can also visit the Sloth sanctuary and the Jaguar rescue center.
Sloths
So adorable, lovable and slow. The sanctuary in Costa Rica is home to injured, orphaned and abandoned sloths. The biggest danger to sloths are electric power lines where they get electrocuted and fall from heights thus injuring themselves.
Buttercup was the first sloth to be rescued. Now, there is a nursery where more sloths recover after being treated in the "slothpital". Contrary to us thinking Sloths are slow, when in danger or threatened, they can move as fast as a person jogging. To see more pictures, click here.
Puerto Limón (Province of Limón), is very commercialized and busy with tractor trailer loads of containers as it is the gateway for shipping. It is also a 'port of call' for cruise ships and Limón International Airport.
On the drive to the east coast some of the sights that fascinated us was passing these trucks loaded with pineapples and acres upon acres of banana plantations.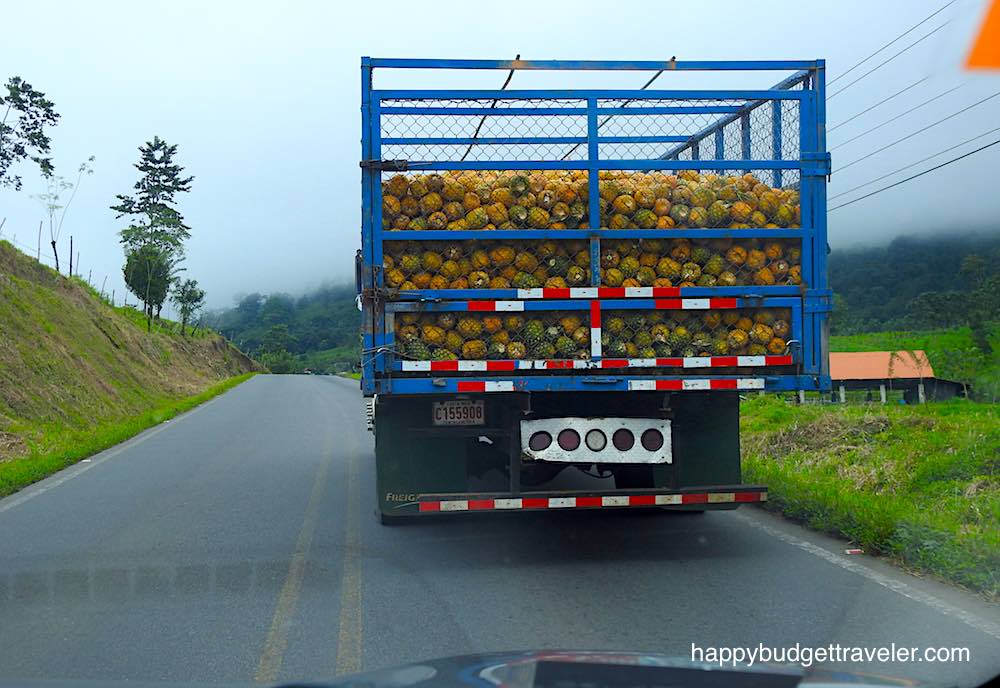 We hope you have a wonderful time in this beautiful part of the world, we certainly did.
You should also consider visiting La Fortuna, Arenal Sky Adventures, Playas Flamingo and Brasilito.
TIPS:
Be aware of your surroundings, its safe but you know what I mean.
Do not leave valuables visible in the car, anywhere.
Buy your water, beer, alcohol at the grocery store, it's much cheaper.